Our battery-powered BD 43/25 C Bp Pack push scrubber drier with disc engineering has a working width of 43 centimetres, a 900 millimetre V-shaped squeegee and 25-litre tank volume. It is thus predestined for the economical deep and maintenance cleaning of surface areas of up to 900 m². Thanks to its manoeuvrability and practicality, it is also ideal for furnished areas. It is powered by a 24-volt battery with 76 Ah capacity. A separate battery charger is included. The EASY Operation system with the characteristic yellow operating elements makes operation as easy as child's play, and requires just very brief instruction on use. In addition, cleaning and maintenance work on the machine is just as simple.
FEATURES AND BENEFITS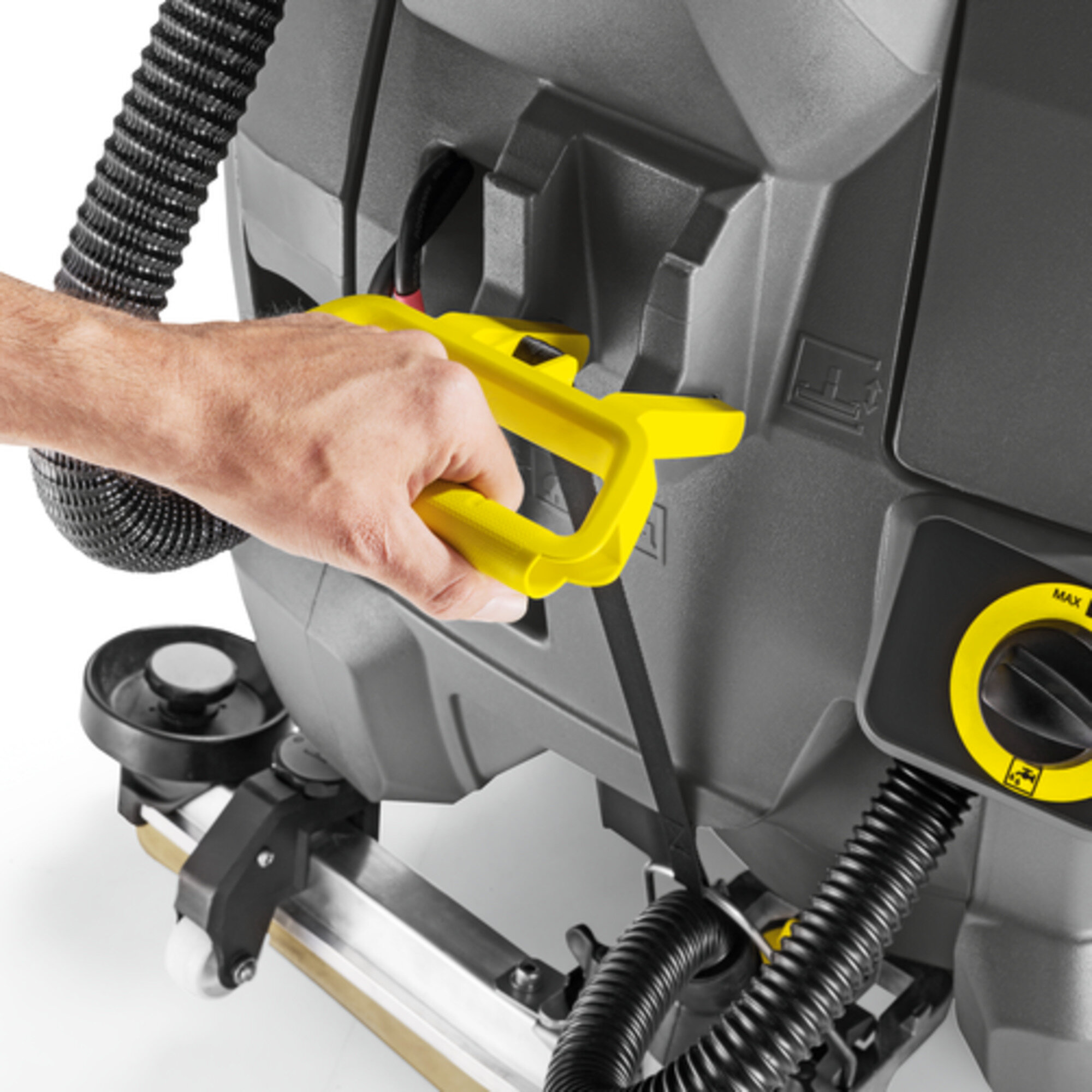 Robust and durable control elements
Designed for daily use. Robust, durable, reliable machine. Designed for daily use. Robust, durable, reliable machine.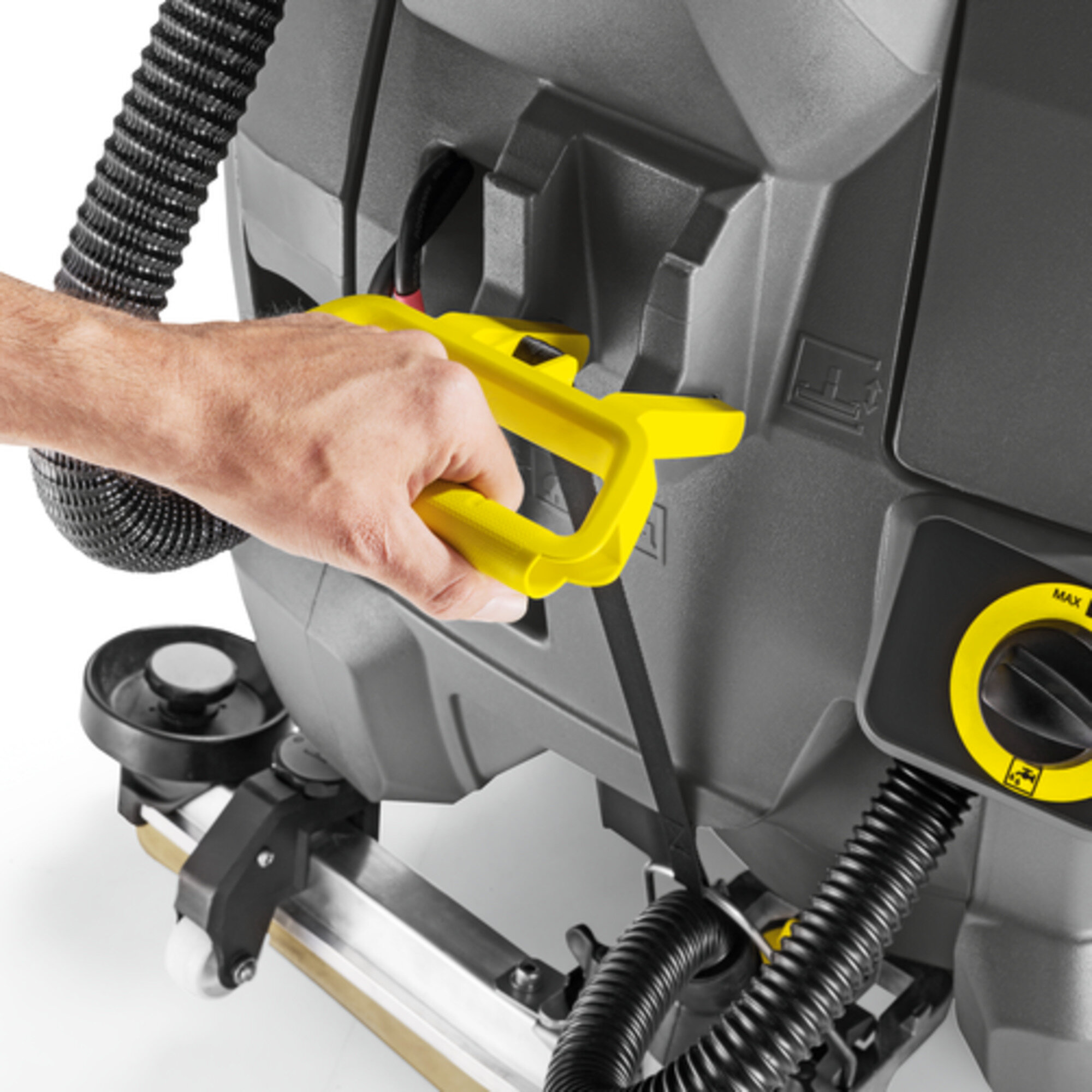 Robust and durable control elements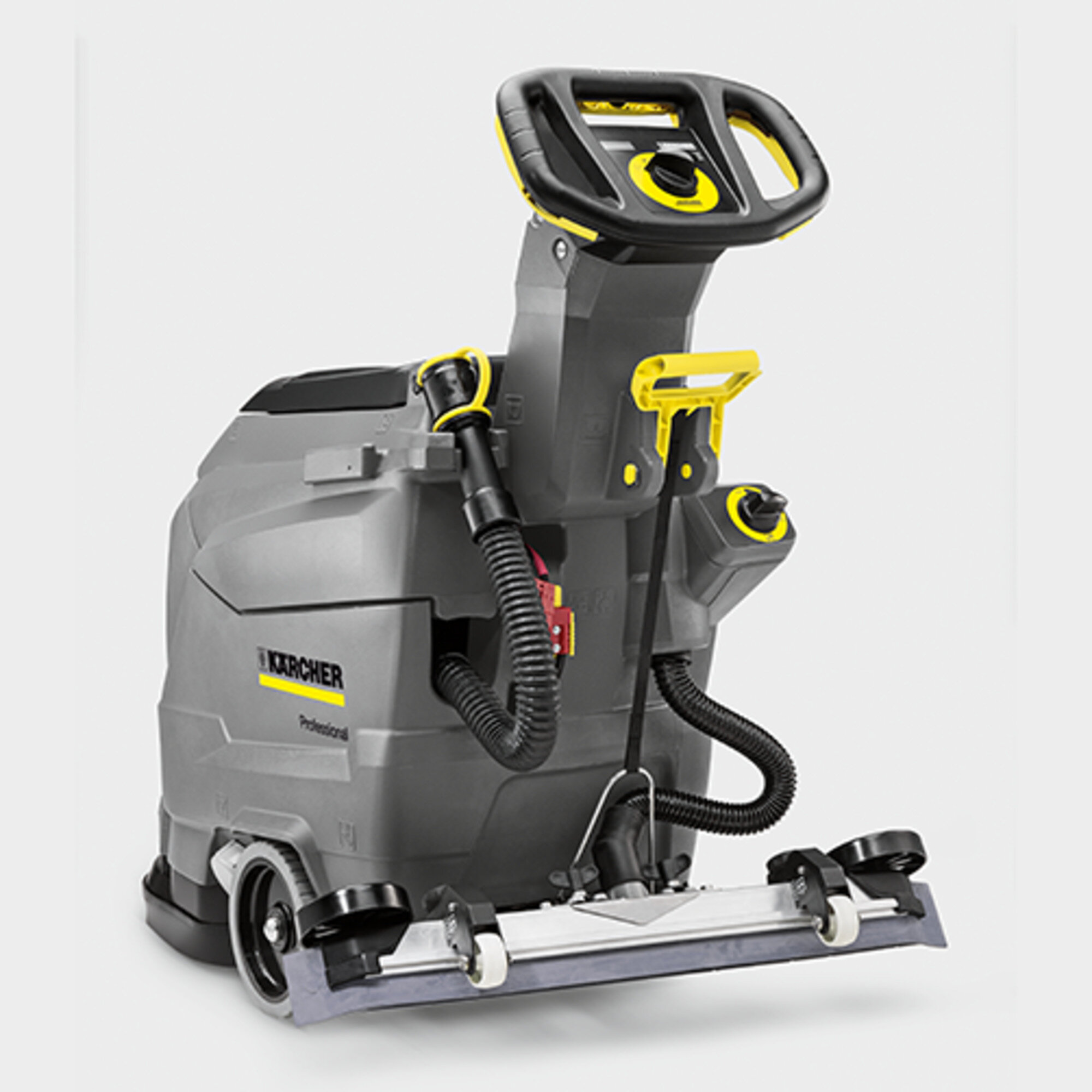 Simple operation thanks to EASY-Operation Panel
Self-explanatory symbols and clear control panel. Solenoid valve for automatic water cutout after the dead man's switch is released. Simple, yellow colour-coded control elements make the machine easy to use.
Small, compact machine
Very manoeuvrable and easy to use.
Clear view of surfaces to be cleaned.
Large battery compartment for all standard battery types
Easily accessible battery compartment for battery replacement.
Also suitable for multiple shift operation.
Comfortable Home Base system
Options for the attachment of hooks, containers, mop, etc.
Additional cleaning utensils can be carried on-board.
Affordable entry-level model in the 25 to 35 litre class
Excellent price-performance ratio.
Reduced to the most important features.
Yellow, clearly visible control elements
Yellow control elements simplify operation and reduce teach-in time.
76 Ah battery and separate battery charger included
Maintenance-free, leak-proof 76-Ah battery with long runtime.
Easy charging at any standard power outlet.
Mains-independent use with no cable trip hazard.
SPECIFICATIONS
Technical data
| | |
| --- | --- |
| Working width of brushes (mm) | 430 |
| Working width, vacuuming (mm) | 900 |
| Rated input power (W) | 1100 |
| Battery (V/Ah) | 24 / 76 |
| Battery runtime (h) | max. 2 |
| Max. area performance (m²/h) | 1720 |
| Practical area performance (m²/h) | 860 |
| Fresh/dirty water tank (l) | 25 / 25 |
| Brush contact pressure (g/cm²/kg) | 30 – 40 / 22,5 – 28 |
| Brush rotational speed (rpm) | 180 |
| Drive type | Battery |
| Weight (with accessories) (kg) | 114,8 |
| Weight without accessories (kg) | 44 |
| Weight incl. packaging (kg) | 126,4 |
| Dimensions (L × W × H) (mm) | 1135 x 520 x 1025 |