Roll over image to zoom in
Click to open expanded view
Our Ice Blaster IB 7/40 Advanced is characterised by a well-thought-out concept, many clever details, rugged durability and extremely high-grade manufacturing. The latest generation dry ice blaster has been designed to handle hard continuous use and is very well equipped. For example, it comes as standard with an integrated ground strap coil, a residual ice removal system that prevents the device from freezing once work is complete, as well as an oil and water separator for reliable operations. The airflow has been optimised in such a way that excellent cleaning results are a matter of course, even when working with low pressures and low air consumption (max. 3.5 m³/min), while operating noise is also reduced to a minimum. The jet gun with remote control for adjusting the jet parameters, stepless control of the jet pressure and the ice delivery volume via a button (can be deactivated ifdesired) and a logically structured display for reading off all operating parameters ensure a high degree of operator convenience. In addition to this, statistical values such as operating time, average ice consumption per hour or total ice consumption can be called up.
FEATURES AND BENEFITS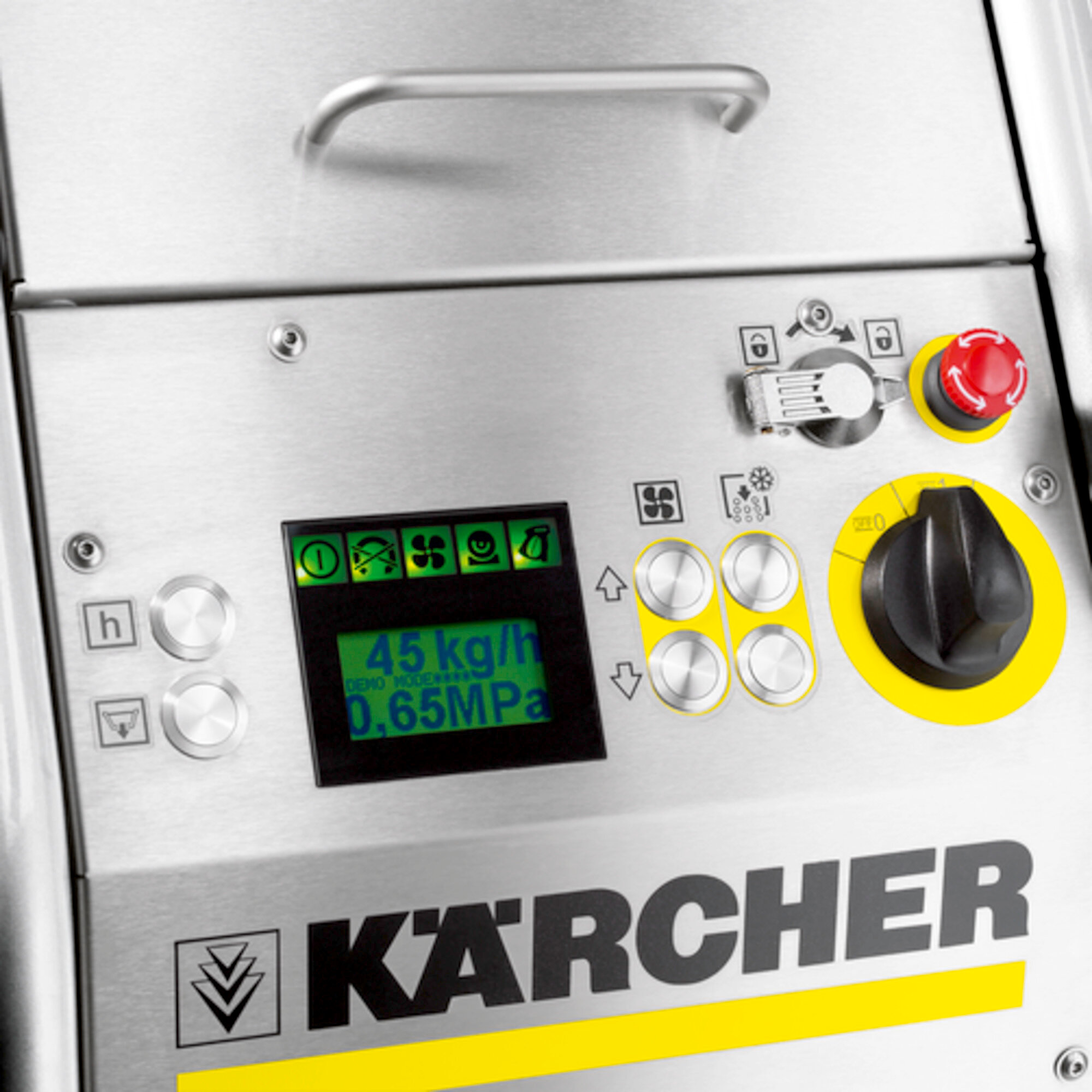 Clear display
Easy to read off the values set; ease of operation thanks to large buttons and electronic control system.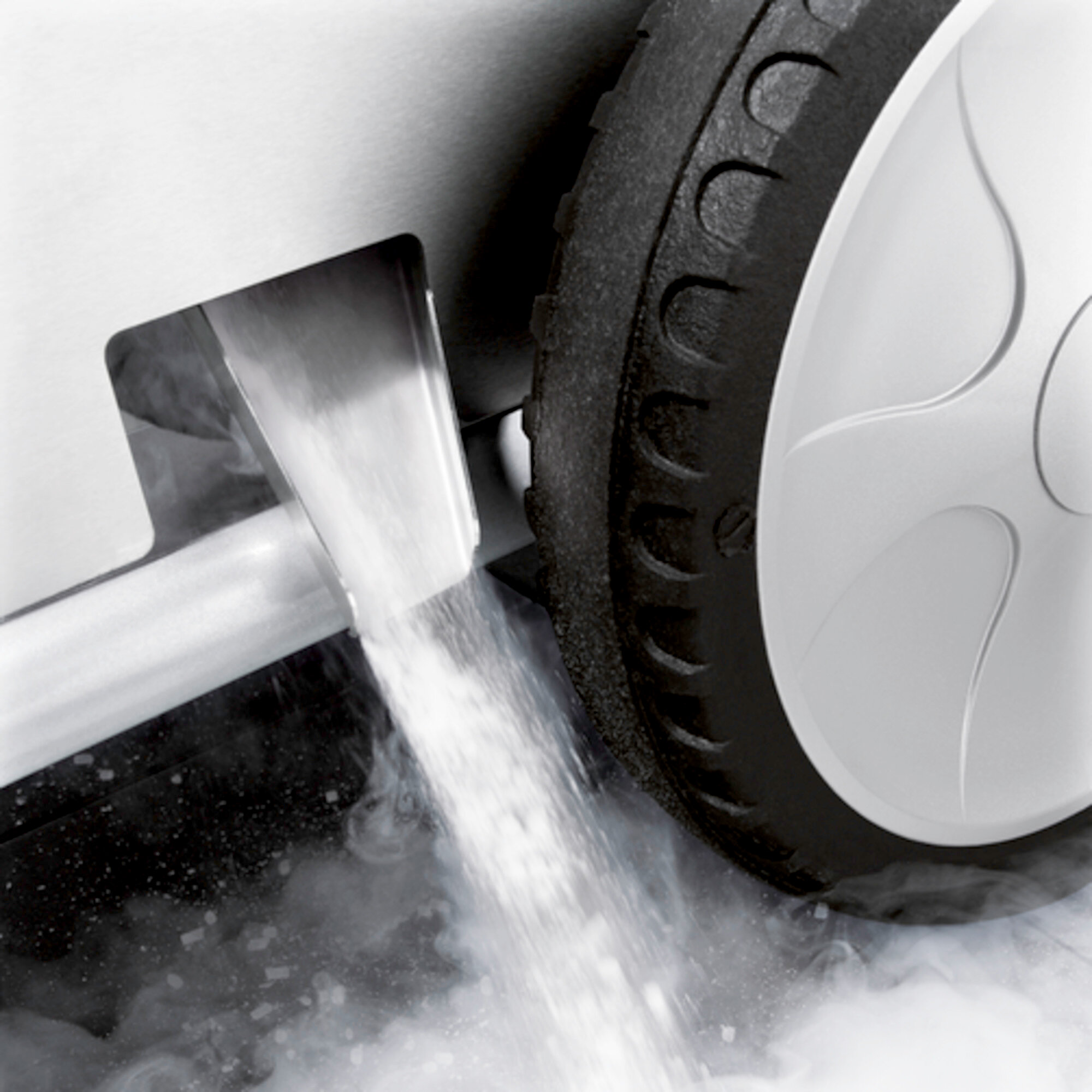 Automatic residual ice discharge
The ability to empty the residual ice tank at the touch of a button prevents the device from icing up once work is complete.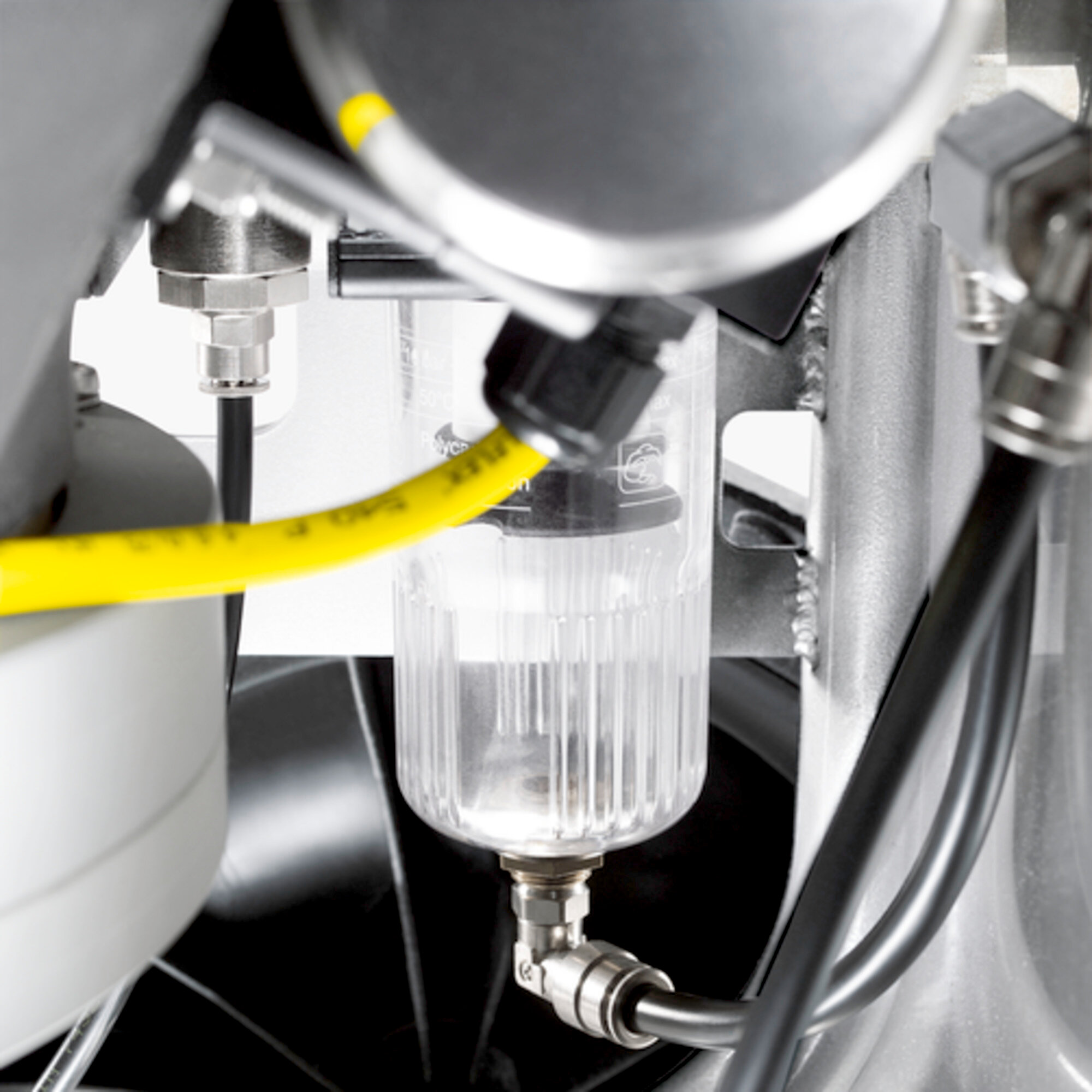 Integrated oil and water separator
No icing up of the device.
Integrated ground strap coil
Easy earthing of the object being blasted.
Protection from arcing from the user to the object.
Improved jet convenience.
Efficient airflow in the device
The dry ice is transported from the device to the nozzle without any damage.
Ultimate cleaning performance at the nozzle.
Outstanding mobility
Optimum balancing of the device for convenient manoeuvring on uneven terrain.
Bars at the front and rear of the device make it easy to negotiate stairs.
GFRP dry ice container
Optimum insulation of the dry ice.
No condensation.
No icing up of the machine.
Refined trigger gun holder
The trigger gun is always perfectly stored.
Ideal position (e.g. for replacing the nozzle).
Integrated storage compartment for nozzles and tools
Everything always to hand – directly on the device.
SPECIFICATIONS
Technical data
Connected load (kW)
0,6
Compressed air connection
Claw coupling (DIN 3238)
Casing/frame
Stainless steel (1.4301)
Air pressure (bar/MPa)
2 – 10 / 0,2 – 1
Air quality
Dry & oil-free
Air flow (m³/min)
0,5 – 3,5
Sound pressure level (dB(A))
99
Dry ice capacity (kg)
15
Dry ice pellets (diameter) (mm)
3
Dry ice consumption (kg/h)
15 – 50
Number of current phases (Ph)
1
Frequency (

Hz

)
50 – 60
Voltage (V)
220 – 240
Weight without accessories (kg)
93
Weight (with accessories) (kg)
77
Dimensions (L × W × H) (mm)
768 x 510 x 1096
Equipment
Grease for nozzle threads
Flat jet nozzle
Open-end wrench (for changing nozzles), 2 piece(s)
Spray hose with electrical control cable and quick coupling
Jet gun (ergonomic and safe)
Ice quantity set directly on the jet gun
Air pressure set directly on the jet gun
"Air only" or "Air and ice" switch on the blasting trigger gun
Electronic control system
Includes ground strap coil
Oil and water separator
Tool bag